Television
The Tecnifícate seminar at LA Mission College was covered by Univision, Channel 34. The news segment includes snippets of my presentation on social media for small business success. You can find more information about the Tecnifícate event here. January 22, 2011.
Newspaper
I was interviewed during my preparation for the Latino2 conference in Central California. The interview focuses on my personal blogging.

Nominations/Awards
I was nominated for "Best CA Latino Blogger" in 2010

Film
My blog post on Foursquare stalking was considered for the Twittamentary film project.

Interview
My interview with Univision on Latino Entrepreneurship, February 13, 2012
Radio: Part of panel discussion with Ariel Coro and Elianne Ramos on Linea Abierta show on Radio Billingüe.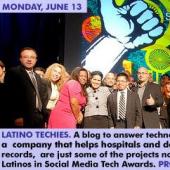 I was interviewed by What Gives? at BlogWorld in relation to my participation in the #ERIC campaign, October 17, 2009.
Videos
Several of my blogging video tutorials have been featured on WordPress.tv.

Blog mentions
Lifehacker and DownloadSquad wrote articles on a Facebook application I co-created with Alana Taylor, Sheraz Mahmood and others ("Get My Tagged Pics").

Other blog mentions,
Twitter Lists